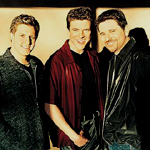 Rascal Flatts from country.com





Hello Fans! I'll try to keep this site updated with the latest news, tour dates, information, pictures and other great stuff on our favorite new country group Rascal Flatts!
When I first heard Rascal Flatts' "Prayin' For Daylight," on the radio I fell in love with the sweet sounding harmony of Joe Don Rooney, Jay Demarcus, and Gary Levox. They brought me back into the country scene with their debut album on Lyric Street Records. Thank You Rascal Flatts for leading me back into the country scene! Love Ya!

Thanks for stopping in to Born To Love Rascal Flatts!Be sure to sign the guestbook below or E-mail me your thoughts and suggestions on how I can improve my site. I'll try to update frequently, so check back often!